Alexandre Centeleghe DipWSET
Founder and wine lecturer at Pur Jus Education
Swiss and French
Bachelor of Science from EHL – (Lausanne) Hospitality Business School
WSET Diploma 4
With experience in wine education, tasting, media, promotion, sales and PR, Alexandre has found his vocation for wine teaching a decade ago. He has given lectures to hundreds of students between Asia, Europe and North America.
Born in Switzerland, Alexandre has been travelling the world since a young age and still do so professionally to write wine reviews. He is the former vice president for tastings at JamesSuckling.com (international) and has been tasting thousands of wines around the world with his former boss and mentor, the world acclaimed American critic James Suckling.
Alexandre is currently giving wine lectures at EHL Hospitality Business School for students in the Bachelor programme and at Ecole du Vin in renown oenology school Changins . He is also working on freelance projets with wine promotional agencies, media and magazines such as Paris Match Suisse (read last article).
Alexandre is your teacher for the WSET programme both in English and French in Lausanne and Montreux. He looks forward to welcoming you and share his passion and experience of the wine world with you.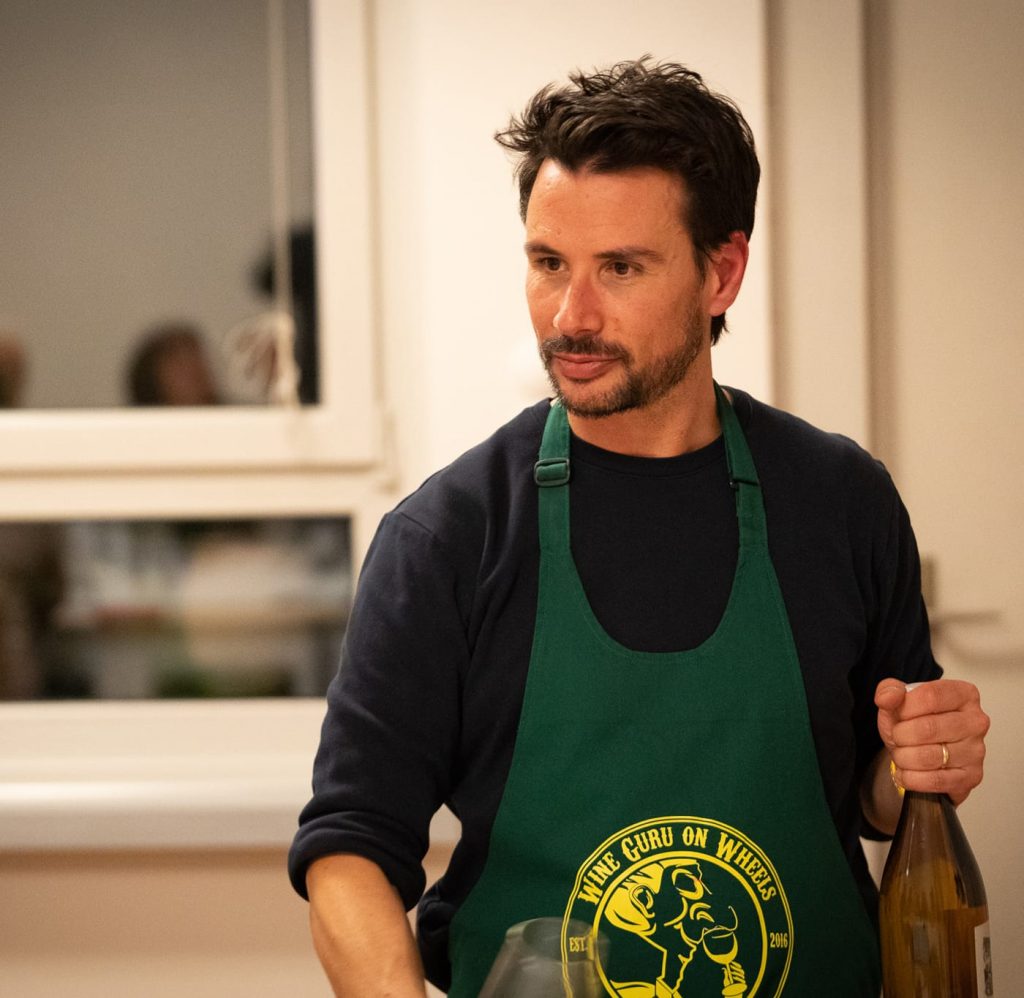 Juan Lo Bello DipWSET
WSET Certified Wine Educator at Pur Jus Education
Argentinian and Italian
French Wine Scholar from the Wine Scholar Guild
WSET Diploma 4
His passion for wine started in Mendoza, Argentina, close to the original "Juan" (his grandfather), who introduced him to the world of wine.
He continued his professional career in the UK, where he finished the WSET Level 4 Diploma in 2008. He has worked for 15 years in international management roles in Asia, Europe and Canada. He mostly focused on sales and marketing, where he experienced the world of wine from every angle: producers, distributors/ importers, markets, brand development and consumers.
In 2016, he moved to Alsace and founded in Basel the Wine Guru on Wheels to provide personalised wine experiences and wine education to private individuals and corporate business customers.
Apart from WSET wine courses, Juan is also a professor of Global Wine Business and Global Wine Markets in the EM Strasbourg Business School.
He is married with one wife, has two children, two cats and Ugo (dog).
Juan is your teacher for the WSET programme in English in Basel and Zürich. He would love to introduce you to the wonderful world of wine, same as his grandfather did.
Angela Cochran
WSET Wine Educator at Pur Jus Education
American
Bachelor of Science in Human Resources, Ohio State University
Graduate of Culinary and Service Excellence (CSE), At-Sunrice Singapore
Certified Specialist of Wine (CSW), Society of Wine Educators
WSET Level 3 certified with Distinction
Angela was originally born in the United States and spent the past 20 years living in Hong Kong, Singapore, and Australia before moving to her current home in Zurich, Switzerland. This extensive travel has brought her in contact with multiple facets of the wine industry throughout the world.
Angela is co-founder of Executive Wine Education which focuses on the essentials of a well-rounded wine education from an executive's practical perspective through educational content, stories and experiences from the world's great wine regions. She has a wide degree of experience working in the hospitality and wine industry. She has had the privilege of working with the world acclaimed French chef, Jean-Georges Vongerichten in New York City, working in the Ritz Carlton in Singapore, as well as for the American wine Critic James Suckling, supporting several of his large scale wine events in Hong Kong. She has worked as well for Zachys, one of the world's greatest wine auction houses where she supported auctions of private wine collections in Hong Kong. Angela is currently the head of a Wine Club in Zurich where she hosts various tastings and educational events on a regular basis.
Angela lives in the city of Zurich together with her husband and two daughters. Angela is your teacher for WSET level 1 classes in English in Zurich and looks forward to sharing experiences and learning more about wine together with you.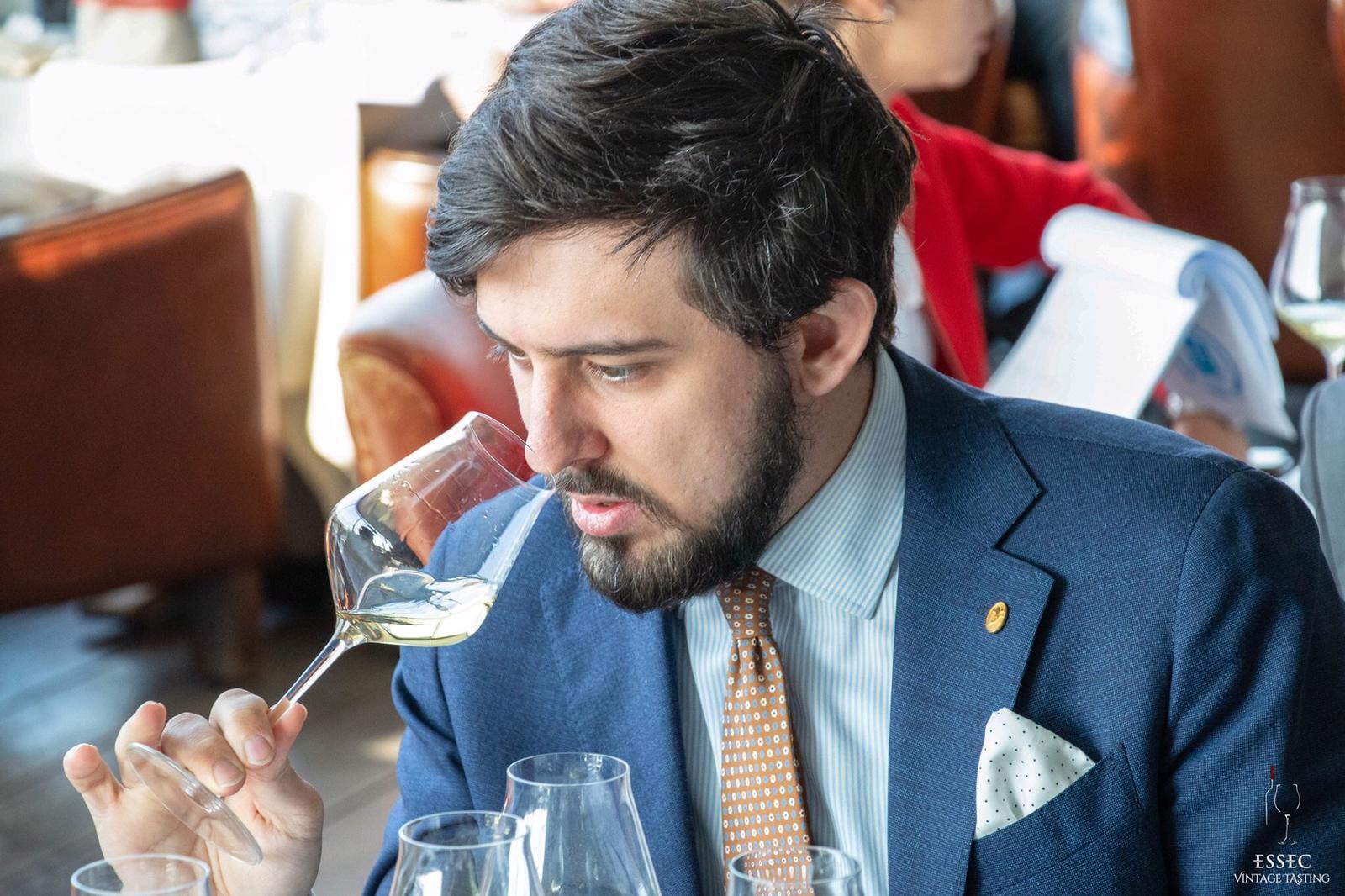 Lorenzo Pellegrini
WSET Wine Educator at Pur Jus Education
Italian and German
Bachelor of Science from EHL – (Lausanne) Hospitality Business School
WSET Level 3 certified with Distinction
Lorenzo spent a large fraction of his childhood in the Langhe wine region in Piedmont, Italy spurring his devotion for wines since a young age.
Young wine professional with experience in presentation, representation and promotion of wineries and wines. Lorenzo discovered his passion for teaching whilst assisting the oenology professors at the Lausanne Hospitality Business School during their courses and loved to be able to share his passion and knowledge with students.
During his studies he started taking part in wine committees and wine tasting contests as well as working for a renowned winery in Sonoma, California (Peter Michael Winery) and more local Swiss wine start-up SwissGrapes. He more recently worked for Moët Hennessy as a Brand Manager for some of the most famous Champagne brands, where he focused on marketing, commercial strategies as well as visibility and positioning of the brands.
He currenly works at local winery Domaine La Colombe, where he is in charge of sales, logistics, representation and tastings.
Lorenzo is your teacher for the WSET Level 1 in French and in English in Lausanne and Geneva. He's looking forward to sharing moments of fun and learning with you about what he loves most, wines!